Many vloggers earn extra income through sponsorships. However, searching for campaigns through sites like Famebit or trying to get in touch with companies directly can be time-consuming and unlucrative. Instead, you can find jobs waiting for you on Ogila.
Creators of any size can use Ogila to find companies who want to pay them to review products and services or create reaction videos. It's free to sign up and super easy to use.
Here's how to start making money with Ogila.
1. Sign up as an influencer.
First, you have to register. Go here to sign up with your YouTube account.
You're not required to have a huge number of subscribers or views to sign up, so even if your channel isn't eligible for monetization, you can make money with Ogila.
2. Choose the jobs you want to do.
Next, Ogila will show you a list of jobs and how much you'll earn from each one. The amount you can earn is based on your channel's analytics.
The jobs you'll have to choose from include a wide variety of reviews and reaction video. You'll have fun creating reaction videos like the one below!
3. Upload your video to YouTube and submit the link to Ogila.
After the video is uploaded, simply submit the link to Ogila. Then, you're done and ready to get paid!
The jobs on Ogila are easy and fun to create videos for. By mixing in more reviews and reactions with your regular content, you can quickly increase your income.
4. Get paid!
You'll be paid for any job within twelve hours of submitting the link. You can have the money sent to you through Paypal or wired to your bank account. You can also collect what you earned as gift cards for Amazon, Uber, Airbnb, Apple, Google Play, Netflix, and Starbucks.
Ogila has already helped creators earn a lot of money!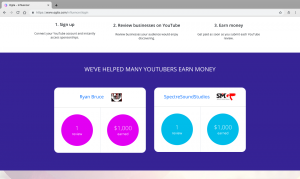 5. Invite your friends.
Once you starting using Ogila, you can invite your YouTuber friends to join through a unique link. After they sign up, you'll make a five percent commission on anything they make with Ogila. That means the more money your friends make, the more money you make!
In fact, your Ogila link should be listed in your YouTube video descriptions so other creators can find it easily.
Ogila makes it fun and easy to earn more money from your YouTube videos. Whether your channel is monetized or not, you can sign up and start earning with Ogila today: www.Ogila.com/influencer
Interested in getting your YouTube video discovered by masses of targeted fans? Click this link: www.promolta.com
Kristen Harris enjoys listening to a wide range of music, from Taylor Swift to, on occasion, Celtic instrumental. She also spends her time writing, reading, and baking.